Expert report®
in-depth technical expertise of the vehicles
A mechanical analysis that is unique in the market
The Expert Report is a 185-point test, combined with a test drive. It is performed on all vehicles less than 42 months old.
Prepared to make sure you have unprecedented transparency on the state of the vehicle, it allows you to buy with confidence. Broken down into 4 parts (mechanical, comfort, safety and road test) the Expert Report provides clear and objective information on the state of the vehicle. You know exactly what the condition is, so you can control your budget perfectly.
Conducted by independent professionals, the Expert Report is available online and for each vehicle.
A very simple icon system clearly shows you our opinion on the check point:
Everything is fine
Anticipated
To do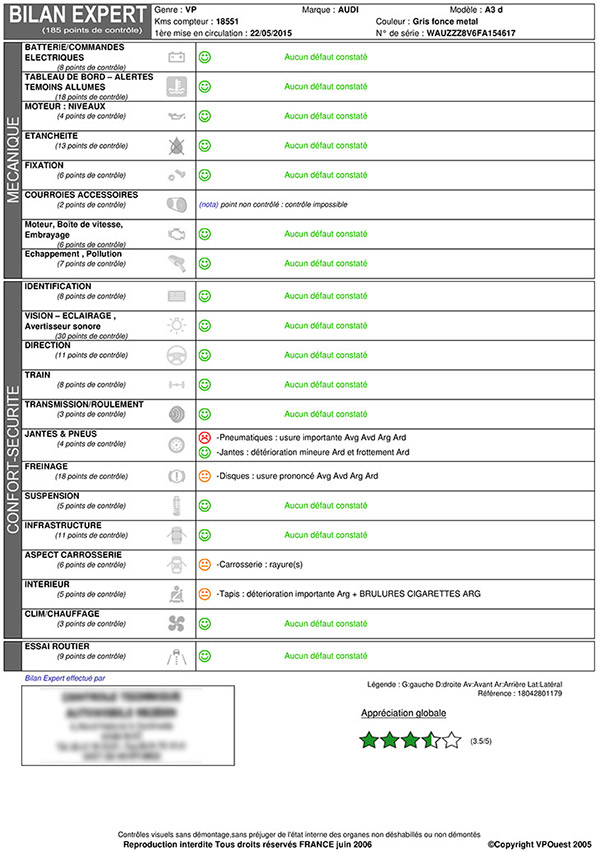 The expert report:
185 checkpoints

Technical expertise
of the vehicle

Admin
documents and estimate

Preparation
before the sale
technical check up
Vehicles older than 42 months are subject to a technical check up, of which you are informed. We also perform a test drive that highlights the qualities and defects of the vehicle.
To know more about the technical check up, read our article: understanding the technical check up.
The "Expert Reports" and the technical checks upsare not invoiced as an addition (except for legal sales).